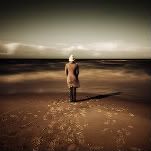 Together in love almost 15 years,
My Love, my life; sharing laughter and tears.
Then out of nowhere, in waters toiling and dim
Tragedy struck; and there I was alone without him!
He dived into the water,
they say he struck his head
I was lost and alone,
the love of my life was dead.
Scared and left alone,
in my time of tremendous sorrow
How could I face the rest of my life,
When I could't even face tomorrow!
I went to my room alone that night,
There I screamed and lay on the floor!
I pleaded with God to help me,
just make everything good like before!
I gazed accross the room,
saw my bible on a table just lying there,
God was reaching out to me, wanting my sorrows to share.
Soon the morning sun streamed in the window,
But my pain was not gone
I realized it was through Gods grace,
I would find strength to carry on!
I prayed,
"God if you are listening, and he is there with you,
let him look upon me, let him see I'll make it through!
God let him see me smile again, let him know I love him so,
Tell him that I'll be okay, as I struggle to let go."
Finally I turn to scripture, and Gods word I implore
He shall comfort me on earth, till in heaven we're together once more.
Turning to Psalms 30, to ease a heart thats torn,
Though sorrow comes by night, joy comes in the morn.
With God's mercy I shall go on, in his light is where I shall see
I can do all things, Through God who strengthens me!