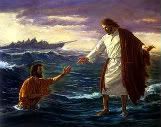 Oh how I love Jesus,
he is all and all to me,
There upon the rugged cross
He died to set me free.
I can't help but love him
For did'nt he first love me
When I was just a sinner
he did not turn and flee!
He promised never to leave me
I am standing on his word
A truth he has spoken
The sweetest words I ever heard!
So when I go through sorrow
I dont have to go alone
For he is always with me
I have Jesus to lean upon.
I am satisfied with Jesus
Whether here or there,
If I know my savior is with me
I am contented anywhere!
Someday when my life is over
And I'm needed here no more
I will go to be with Jesus
on that bright and happy shore.
So won't you prepare to meet him
Don't turn to walk away
He's everly so tender calling
for you to give him your heart today!